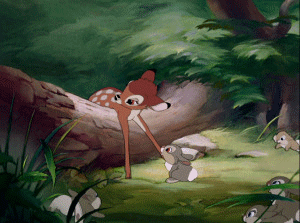 Despite it's tragic ending, most of us of a certain age remember with great fondness the Disney film Bambi.
Originally released in 1942, it's considered one of the finest examples of animation from the 20th century.
Yet the artist responsible for the backgrounds, the atmosphere, the 'look and feel' of the film is still largely unknown. Tyrus Wong, 104, died Friday Dec. 30th, yet another remarkable artist to pass on in 2016. You've probably never heard of him, however, due to the lack of acclaim offered to Chinese Americans of his generation.
Wong worked as a staff artist in Hollywood beginning in the 1930s. He created storyboards and concept art for both animated and live-action films, many of which are  beautiful paintings in their own right.
Born in China in 1910 he arrived at Angel Island at age 9 and was promptly detained under the Chinese Exclusion Act. Eventually he was aloud to join his father. It took until 2001 until Wong received  recognition for his remarkable work.
Fortunately for him, and us, he lived a long and creative life.
Read more about Tyrus Wong, here: